Are you ready to hit the road with your RV, but don't know what GPS to choose? Don't fret! You are in the right place.
This guide will help you select the best GPS for your RV and make sure you have a safe and enjoyable journey. Let's get started!
GPS (Global Positioning System) devices can be immensely useful when driving an RV, small car, truck or other vehicle. Many models come with helpful navigation functions and travel restrictions that everyone from recreational travelers to long-haul truckers can benefit from. Although GPS systems are incredibly helpful, choosing the right one for your car or truck can be a bit confusing. Understanding the features and specifications for the leading consumer-grade models is the first step in finding one that fits your needs.
This guide provides a comprehensive overview of the popular consumer-grade GPS options to help you make an informed decision about which model is best for your RV travel needs. We'll discuss the key features and functions of each option, as well as their pros and cons to provide you with all of the information you need to choose a GPS system that fits your budget and meets your requirements.
Considerations When Choosing an RV GPS
After learning about all the features to consider when choosing an RV GPS, it's time to start looking for one that fits your needs. Here are some factors to consider when purchasing an RV GPS for your RV:
Price – The cost of GPS systems can range from $100 -$500 depending on the features, but most are well under $200.

Screen Size – Most RV GPS models have a 5-7 inch screen size, although larger (7-9 inches) screens offer more visibility in sunlight or a better view of detailed maps.

Custom software– If your RV travels to foreign countries, look for a model with software that has maps specific to those countries or will accept custom software updates so you can add them later.

Easy of Setup/Operation – Some systems may require more setup than others, and some are user-friendly while others require multiple steps before you can use it properly while driving your RV. Ask if there is an easy way to get started driving and what kind of instructions are included with the model you're considering buying.

Technology – There is a wide range of technology available on the market today such as Bluetooth compatibility, Touch screen operation and real-time traffic alerts so keep this in mind when shopping for a model that fits your needs best.

Battery Life–Most modern GPS devices come equipped with rechargeable batteries but be sure to ask about battery life as this can vary widely depending on use and model type chosen so check reviews before making a purchase decision if possible.
Screen size and resolution
When considering choosing the right GPS for your RV, two important factors to take into account are the screen size and resolution of the unit. The larger the screen size, the more area of your RV you can pinpoint and get visual information from. It is also helpful when you are trying to plan a route, adding stops or viewing images. For example, a bigger screen makes entering zip codes easier and keeps a closer eye on traffic jams or other issues you may run into along the way.
The resolution affects how faithfully images are transmitted to your GPS device, which can be critical while driving in unfamiliar locations. A high-resolution display will show sharper details when navigating turns or obstacles like bridges or tight roads. Low-resolution screens can make signs hard to read so thoroughly comparing screen sizes and resolutions is important to determine which one offers the features most beneficial for RV travel.
Mounting options
When choosing a GPS for an RV, it's important to consider the mounting options. Depending on the size of your vehicle and how much space you have on your dashboard or instrument panel, a dash mount may be the best choice.
For RVs with limited internal space that don't have pre-installed navigation systems, portable navigation devices—those designed for RVers—may be more suitable. Many feature large display screens mounted directly on the console using adjustable straps or removable locking arms. Some also have swivel heads so they can be easily viewed while driving and also stored away while parked at campgrounds and other destinations.
Additionally, there are in-dash GPS systems that offer more robust features than portable units while offering easy setup and integration into vehicles with factory-installed audio/video systems. Most come complete with dashboard & dashboard mounting brackets made specifically for RVs, allowing easy access to all of the in-dash unit's features including turn-by-turn directions displayed on a larger display screen.
Battery life and power source
The battery life of a GPS unit is an important factor to consider before making your purchase. Most units have rechargeable batteries, allowing you to use the GPS for long periods of time without needing to plug it in. However, some units require alkaline batteries, which means you'll need to keep a supply on hand in case the batteries run out.
Additionally, it's important to think about what type of power source your RV offers — some offer shore power outlets and/or cigarette lighters where you can plug in your GPS unit — so decide what type of power connection works best with your needs before selecting a model.
Maps and updates
When looking for a GPS for your RV, it's important to consider what kind of maps and updates are included. Here are a few things to consider if you're in the market for an RV GPS:
-Map coverage: Check what type of map the unit comes with – usually, this will include everything from street maps and campsites to points-of-interest (POI), like campgrounds, stores, and other attractions. Make sure you have coverage for wherever your travels may take you.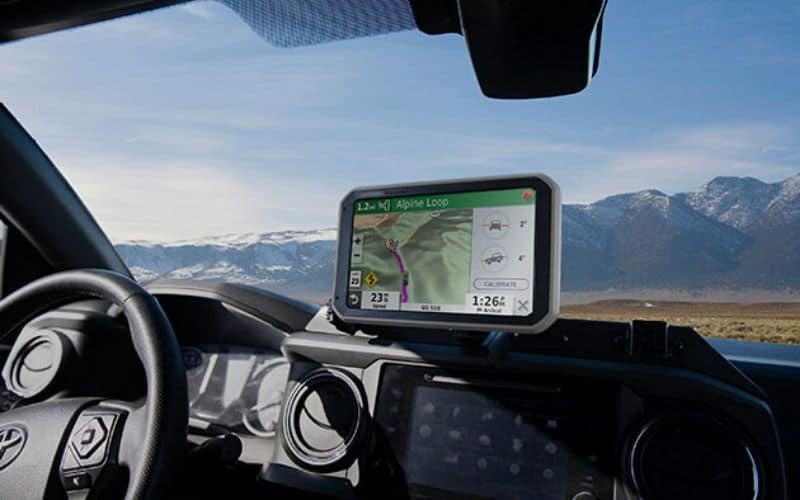 -Update frequency: Depending on where you live, map updates can be offered quarterly or annually. Some higher end units include free lifetime updates to make sure that your maps are up to date no matter how long you own the device.
-GPS accuracy: Different GPS units offer different levels of accuracy when navigating roads and trails. Look for a device that offers real time traffic information, lane assistance and other advanced navigations features that make it easy to find exactly where you need to go.
-POI search options: Depending on the device, some GPS units allow users search for POIs using keywords or phrases. This can be helpful when finding specific attractions or destinations in unfamiliar territory.
Routing options
When choosing a GPS for your RV, one of the most important things to look for are routing options. Many GPS models will feature "trip-planning" capabilities, which allow you to plan routes beforehand and save them for easy recall later. It is also important to consider routing capabilities such as "real-time" traffic information, which helps you avoid congested areas and heavy traffic flow on your route. Some GPS models will even inform you of low clearance bridges or steep grades ahead of time, saving you from costly accidents!
Additionally, if you plan on taking an adventurous journey through unfamiliar territory – it would be beneficial to invest in a system with off-road features that can guide your vehicle over unknown terrain. Lastly, consider whether you want rubberized buttons or a touch screen interface when it comes to navigating the device itself. This can be a deciding factor if the owner plans on using their GPS outdoors in any environment – remember ease of use is key!
Traffic updates
Traffic updates are an essential feature for any GPS device used in a recreational vehicle (RV). In most cases, RV owners will use the GPS device to find their way around the country while they explore and visit different places. Therefore, it is important to have a system that offers real-time traffic updates that can help you plan alternate routes in order to avoid any potential delays due to traffic.
Many GPS devices include live traffic information from national, state and even local levels, which helps drivers make informed decisions about their route. This is especially helpful for people who need to reach a destination quickly or do not have time for detours caused by heavy delays during rush hour or other peak hours throughout the day.
While some RV customers may prefer more basic and simpler models without these features, we believe that finding an advanced model with up-to-date traffic information should also be considered in order to ensure you always get the most efficient route possible.
III. How to Use an RV GPS
Using a GPS in your RV can be a great way to navigate, find long term stays and awesome attractions near you. You'll be able to navigate through large cities, scenic routes and the road less traveled for all your adventures. To get the most out of your navigation system, there are some important details you should know:
Pre-load Waypoints: Before hitting the road, it's a good idea to load waypoints into your GPS. Waypoints are markers that you can use to plan your route. They include long term stays, campsites, attractions and anything else of interest on the map. Most GPS devices allow you to save up to a thousand waypoints so you can easily find exciting places without getting lost.

Check Maps: It's important to check that the maps on your device are up-to-date before leaving home — roads change every year! Make sure they reflect any seasonal closures in parks or other areas as well as new access roads or detours announced by highway departments. Most GPS units offer free updates when connected to Wi-Fi so it's easy to keep everything current before each trip.

Install Apps and Programs: Many GPS systems offer extra features such as traffic alerts, camping reviews and alternate routes for gas stops or rest areas — all helpful information for RVers! Download apps like AllStays or Ultimate Public Campgrounds with built-in rating system which have clear and detailed descriptions of campsites from around the world with vital information about cost, type of hookups (if any), water sources and more — an excellent guide for long distance travel planning!

Set Preferences: Adjusting settings like voice guidance is also essential for safe driving experience — be sure it's loud enough for you to hear over traffic noise but not so loud it's annoying! You may also want change map icon preferences like color coding different types of points of interest like hospitals, restaurants etc., so they are easier to spot while traveling at high speed on highways or back country roads where even small changes could cause drastic results if not accounted for in time!
Set up the device
One of the most important steps in getting the most from your GPS is to properly set up your device. As RVers, we need to grab every opportunity to make sure our device has the latest maps and software updates. Even if your GPS has recently been purchased, it may not have all of the recent changes or additional features that are available.
This can also be done with SD cards or an internet connection via Wi-Fi or even Bluetooth if you're using a smartphone. Along with making sure your maps are up-to-date, there are other settings that you can customize to suit your needs. Some of these may be storage capacity, backlight brightness and color options.
You'll want to review each of type of setting carefully before deciding which customization will work best for you. Settings such as icon size and symbol shape can really influence how useful (or frustrating!) using your GPS will be, so it's important to take some time and consider what would work best for you when driving with the GPS equipped in your RV!
Enter destination
Entering a destination into your GPS before setting off in your RV is one of the most important steps in ensuring a successful journey. The right GPS can provide you with detailed maps, accurate navigation and alternative routes to get you where you need to go even if an alternative route is needed due to construction or inclement weather. It's important before purchasing a GPS that you understand how each unit works, the features they offer and how they will best meet your needs on the road.
When entering destinations, first use the address or city and state or choose from available points of interests. Via points allow adding of multiple stops along your route as well as alternative routes for possible detours due to traffic or other unforeseen obstacles. Entering cross-streets and zip codes is also possible with some units, allowing for easy navigation on difficult roads like one-way streets or dead ends. You may even be able to enter keywords such as coffee shops or National Parks for use when searching for nearby destinations. If a trip requires long drives, it may benefit from a feature that allows setting rest times as well so drivers are properly rested before resuming their drive.
Various GPS brands provide different features designed with RVer's in mind; however, keep in mind when purchasing recreational navigation software that there may be additional fees after initial purchase such as subscription updates or map data packages required to keep your unit up-to-date on all current road information.
Customize settings
Some GPS systems are designed specifically for RV and motorhome users, while others may be generic systems suitable for RVs, cars, trucks and all other vehicles. When choosing a GPS system, make sure it is tailored to your specific needs as a driver. Consider the unique features of an RV or motorhome which can vary from basic models all the way up to more luxurious rigs.
Customize settings such as these within your unit before departing on a road trip. This will allow you both to get an accurate reading of where you are and where there are services nearby for assistance; such as RV repair shops, restaurants, campgrounds and truck stops. Additionally, set the preferences in your GPS so that data such as speed limits and fuel availability is displayed in a language that is easy for you to understand.
Follow directions
When you are shopping for a GPS for your RV, one of the most important things to consider is if the unit can follow directions. Your RV often isn't going in a straight line, but will require more complex maneuvering than an automobile. A good quality GPS should use accurate directions and provide options such as current traffic and state route information, up-to-date maps, and 3D images of terrain. Make sure the model you choose is capable of navigating around obstacles like sharp curves or tight corners that often come with driving an RV.
Additionally, you want to make sure your GPS has audible warnings about upcoming turns and other obstacles so you can be alerted before reaching them. Another helpful feature is speed limit alerts which can alert you when you have exceeded posted speed limits in certain areas. If a GPS offers all of this plus additional navigational features such as real-time weather updates and route optimization, then it's worth considering for a superior driving experience when piloting your RV.
Conclusion
In conclusion, selecting the right GPS for your RV is not a complicated process as long as you know what features are important to you. It's essential to weigh up all the features of different models and find one that fits your needs. Additionally, it's always helpful to read customer reviews so that you can be sure that the product does what it says it does. Ultimately it's up to you to make sure that you are aware of all the features from each model, so that you can compare models and get exactly what you want.
FAQ's
Do I need an RV specific GPS?
It depends on your needs and the type of RV you have. An RV specific GPS can provide specialized routing, information on RV-friendly roads, and other features that may be useful for RVers.
How do I choose a GPS?
Consider your specific needs, such as whether you'll be using the GPS for driving, hiking, or other activities. Look for features like accuracy, ease of use, and compatibility with your device and preferred maps.
What is an RV specific GPS?
An RV specific GPS is a GPS device that is designed specifically for use by RVers. It may include features like specialized routing, information on RV-friendly roads, and other tools that are useful for navigating with an RV.
How do I choose a GPS for my car?
Consider features like accuracy, ease of use, and compatibility with your device and preferred maps. Look for a GPS that is designed for use in cars, and consider whether you want additional features like traffic updates.
What is the best and easiest GPS to use?
This depends on your specific needs, but some GPS models that are known for being user-friendly include Garmin Drive, TomTom Go, and Waze.
Which GPS system is most accurate?
GPS systems that use multi-frequency technology tend to be the most accurate, including models like the Garmin GPSMAP 66i and the Trimble R10.
Which is the most accurate GPS for India?
Some of the most accurate GPS devices for use in India include models like the Garmin eTrex 10, the Magellan eXplorist GC, and the TomTom Start 20.
What are the top 5 GPS?
This can vary depending on your specific needs, but some popular GPS models include the Garmin GPSMAP 66i, the TomTom Go, the Magellan eXplorist GC, the Waze app, and the Garmin Drive.
Which GPS system is most accurate in India?
GPS systems that use multi-frequency technology tend to be the most accurate in India, including models like the Garmin eTrex 10 and the Magellan eXplorist GC.
Which GPS does India use?
India uses the NavIC (Navigation with Indian Constellation) system, which is a regional satellite navigation system developed by the Indian Space Research Organization (ISRO).
See Also-